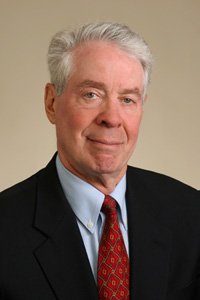 Roger A. White is the retired founding partner of WSW Law
Education: Lake Forest College, B.A.; DePaul University, J.D.
Practice Areas: Family Law; Divorce
Admissions: 1964, Illinois
Miscellaneous Information:
Member: American Academy of Matrimony Lawyers, 1974-2015.
Biography:
Roger A. White, the founder of the firm, was admitted to the Illinois bar in 1964. He received his B.A. from Lake Forest College and his J.D. from DePaul University. He was a longstanding member of the American Academy of Matrimonial Lawyers and has served on the Board of Governors of that organization. As a public speaker, he lectured before the American Academy of Matrimonial Lawyers, the Illinois State Bar Association and the Lake County Bar Association. He was featured in North Shore Magazine as one of the top divorce lawyers on the North Shore. He retired from active practice in 2015 and was most recently seen somewhere off the coast of Florida with a gaffing hook in hand and a large grouper on the line.